Become an expert in miner repairs to optimize your operations' profitability.
Enroll in our intensive 80-hour ASIC Repair Technician Certification I (ARTC I) Course. We're your one-stop destination to become a certified ASIC Repair Technician.
by Revolve Labs
workspace_premium
Certificate
Why take the course?
Handling repairs in-house makes your mining operations more profitable, here's how!
avg_pace
You minimize your downtime and liability as you don't need to ship miners off-site and wait long periods for them to be repaired and sent back to you.
payments
You also save money by not paying premiums to third-party repair companies.
currency_bitcoin
With the Bitcoin halving just around the corner, now is the time to make your operations more profitable
Who is this course for?
Those who want to enhance their mining hardware knowledge
Individuals looking to increase their employability in a highly demanded emerging industry
What will you learn?
developer_board
Soldering Basics
browse_activity
Component-level Troubleshooting & Repair
workspace_premium
ANTMINER Working Principles and Maintenance
What will you receive
after completing the course?
After successfully completing the training, you will receive a Certificate of Accomplishment from Revolve Labs. This certificate will enhance your credentials and improve your employability within the mining industry.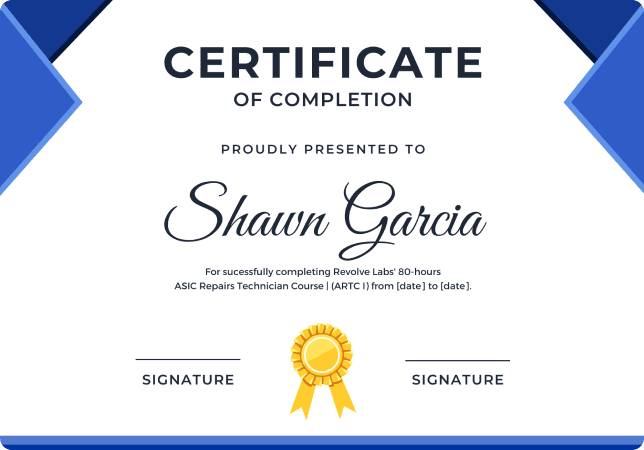 Where will you take the course?
Our world-class repair and training center is located in the crypto-friendly municipality of Colorado Springs, nestled within the Rocky Mountain region of the U.S.
Who will teach the course?
Experienced leaders in managing large-scale mining operations,
they've trained 100+ repair center technicians worldwide.
Cody Nelson
COO Revolve Labs
Trained dozens of repair center technicians worldwide on behalf of Bitmain, the leading ASIC hardware manufacturer. Several years of experience managing large-scale data center operations and running one of the world's largest ASIC repair facilities.
Josh Wallace
Director of Repair Services at Revolve Labs
Josh served several years in the U.S. Army and has over 20 years of combined electronic repair and repair management experience. He has led troubleshooting and repair services for everything from military tanks and night-vision systems to combat vehicle simulators, biomedical equipment and airport security equipment. Josh is hands-on with repairs as he is managing our own ASIC repair center.
What people say about us
I've attended other ASIC Repair courses, but the Revolve Labs course is the best one I've attended by far. The facility is neat and clean, the equipment is great, and the course materials are organized and presented in a very professional way. I feel much more knowledgeable and confident in my troubleshooting and repair skills now.
Noah Latour
Energex Technologies
After attending the on-site training, I feel this is better way to train unexperienced technicians on how to diagnose and repair the S19 miner. I would recommend it for the first time students. The online training in my opinion is more suited for technicians who are already familiar with the board or someone in their organization has already taken an on-site course, to help explain what video is trying to convey.
Kelly Ignacio
Sani-Tech Services Ltd